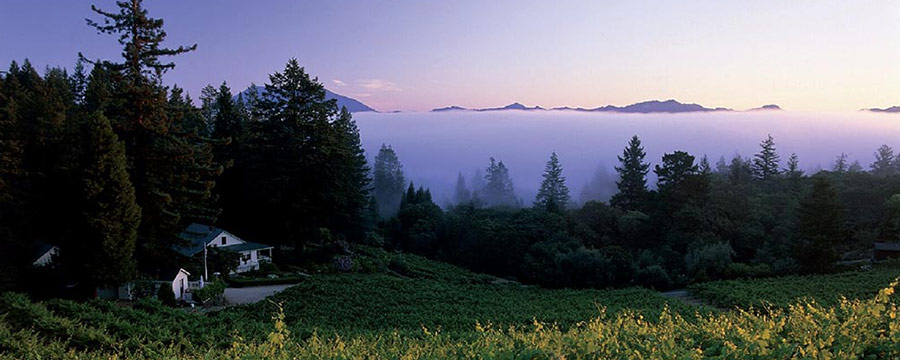 Is Napa Valley the canary in the coal mine? Climate change, the bad, the good and the unknown…
Since 2006, media outlets around the world have been saying that the global wine industry is doomed. Widely-reported studies published in the Proceedings of the National Academy of Sciences assert that global warming will reduce viable wine grape acreage by 70% or more, making it impossible to grow high-quality wine grapes in many of the currently outstanding wine regions of the world by the end of this century.
While the news is titillating and makes for dramatic headlines that Napa's famed wine industry is doomed, the headlines belie the fact that there is a lot that is unknown about climate change as it affects the wine industry and particularly Napa Valley.
There is also little consideration for the potential impact of global warming on all forms of agriculture and human and animal activity - were this apocalypse to come true, one could argue that world hunger, deforestation, coastal flooding and other horrific environmental changes would dominate the world's agenda and no one would care about where the best Cabernet Sauvignon is produced.
That said, understanding how climate change might affect our region specifically is critical to the future of the Napa Valley wine industry, which generates a mighty $50 billion for the U.S. economy and more than 300,000 jobs in our country.
Climate Study Task Force
To help us execute a climate change study specifically for the Napa Valley, we formed a Climate Study Task Force led by Dr. Dan Cayan and his renowned team of climate scientists at Scripps Institution of Oceanography at U.C. San Diego.
The Task Force collected data from 12,000 points in Napa Valley - from vintners, growers and weather stations. From this massive collection of grassroots data, the Scripps science team assembled its final report: Climate and Phenology in Napa Valley: A Compilation and Analysis of Historical Data by Dan Cayan, Kimberly Nicholas, Mary Tyree and Michael Dettinger.
The report, released in February 2011, indicates that Napa Valley has warmed slightly over recent decades, but not to the degree that has been reported in the studies noted above, which analyze broader California weather station data. According to the Napa Valley-specific data analyzed for our report, the warming we have experienced, one to two degrees Fahrenheit, has taken place primarily in overnight temperatures between the months of January to August. In fact, Napa Valley has actually experienced cooler daytime temperatures and increased marine fog influence during the summer growing season in recent years.
Although part of the greater California wine industry, Napa Valley is a unique place and is best understood by looking at appellation-specific data. Napa Valley is neither a coastal nor an interior climate, but shares traits of both — the southern part of the valley is more maritime, while central northeastern Napa Valley features some climate traits similar to California's coastal valleys. Daily and seasonal temperature changes are higher than cool coastal climates, but less severe than warmer inland climates. Napa Valley is highly influenced by the marine layer, especially in the summer. Marine-influenced morning cloud cover mitigates daytime high temperatures, even though the clouds dissipate by early afternoon.
Climate change can and will affect all fine wine-growing regions worldwide, but the results will not necessarily be a blanket effect, as climate change is not a one size fits all phenomena. This is a very long-term issue which vintners and growers around the world need to pay attention to and be directly involved with. At the end of the day, vintners and grape growers are farmers. As no two harvests are the same, farmers must successfully adapt, harvest to harvest, season to season, year to year and have done so for nearly two centuries in the Napa Valley, and for many thousands of years worldwide. For the farmer, change is not only inevitable; it is a way of life.